Weigh Safe Universal Tow Ball
This Weigh Safe hitch ball has an easy-to-use, built-in scale that measures your trailer's tongue weight every time you tow. If the scale indicates that your tongue weight is too low or too high, you can adjust it before you head out so that you can complete your journey with peace of mind, knowing that your setup is safe. And towing trailers with different coupler sizes is a breeze thanks to the magnetic, clamp-on 2-5/16″ ball adapter. Stainless steel construction resists rust and corrosion. WS-UNI
Features:
Hitch ball provides connection point for your trailer's coupler
Tongue weight scale built into the hitch ball helps you balance your trailer

Promotes safe towing – lets you know if your load needs to be adjusted before you tow
Simple operation – automatically provides a measurement every time you couple your trailer
Efficient and hassle-free – eliminates the need for separate or commercial scales

Designed and tested to let you tow trailers with different coupler sizes

Works with 2″ and 2-5/16″ couplers
Ball adapter piece clamps on for quick and easy use

Stainless steel construction is corrosion resistant

Shank is heat treated for superior strength and dependability

SAE J684 certified and VESC Regulations V-5 compliant
Made in the USA
Specs:
Ball diameter: 2″

2-5/16″ Diameter with included adapter

Weight capacity: 10,000 lbs
Tongue weight capacity: 1,500 lbs
Shank diameter: 1″
Fits ball mount platforms that are 3/4″ thick
Overall height:

2″ Ball: 5-7/8″
2-5/16″ Ball: 6″

Scale dimensions: 3″ long x 2″ wide x 2-1/4″ high

Scale sits below the ball mount platform when installed
Note: The Weigh Safe hitch ball is designed for use with ball mounts that have a platform thickness of 3/4″ only.
Ensures Proper Towing and Improves Performance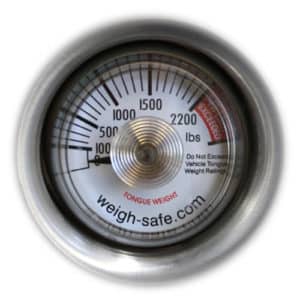 Pressure on the ball sends a reading to the built-in scale that measures tongue weight (lbs.)
GMC guidelines for proper towing states tongue weight should be no less than 10 percent of gross trailer weight (GTW) and no more than 15 percent. For example, tongue weight for a 10,000 pound trailer should be no less than 1000lbs. and no more than 1500lbs.
(Note: Weigh Safe max tongue weight is 1500lbs. Do not initiate tow if your reading is in the red zone)
How Tongue Weight Affects Your Vehicle

The tongue weight is the static force the trailer tongue exerts on the hitch/tow ball. Proper trailer tongue weight improves the vehicle and trailer towing experience by improving performance. Not enough tongue weight or force on the hitch/tow ball causes an increase in trailer sway from side to side, making it difficult to control. Conversely, too much tongue weight or force on the hitch/tow ball could overload the rear tires of the towing vehicle, pushing the rear end of the vehicle around. This could also negatively affect the vehicle handling. Performance is impaired as you might not be able to go around corners and curves properly, and your vehicle may not stop quickly enough when you press the brake pedal.
The Weigh Safe Drop Hitch effectively measures the tongue weight of your towing load, improving the vehicle tow load balance and performance.
Please allow for possible minor cosmetic differences from what is pictured to what is received.
---
We Also Recommend
---